FOR SAFETY SAKE, TRIM YOUR CASES
See video review of our case trimming tools in action.
Ultimate in Case Trimming Speed and Convenience with Deluxe Power Quick Trim
Deluxe Power Quick Trim allows you to trim and chamfer in a matter of seconds. Hex shank snaps in to cordless screwdriver or drill (sold separately).
To complete your trimming setup, order cartridge specific pistol Quick Trim die or rifle Quick Trim die.
Includes Power Quick Trim Adapter, chip catcher and deluxe cutter assembly.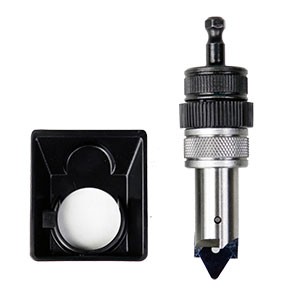 ---
Quick Trim Press Mounted Case Trimming Convenience
With the addition of inexpensive cartridge specific Quick Trim Die body, you will be able to quickly and precisely trim your brass to the correct length with press-mounted convenience. Order cartridge specific pistol Quick Trim die or rifle Quick Trim die.
Deluxe Quick Trim Case Trimmer (Trims case to SAAMI specs & chamfers case mouth at same time)
---
The Lee Case Length Gauge & Cutter and Lock Stud is the simplest way to check the case and trim to the correct safe length.
After a case has been loaded a few times, it will stretch beyond maximum length and must be trimmed. The Cutter and Lock Stud works for all calibers. You will need only one. The cartridge specific Case Length Gauge (Pilot) and shell holder must be ordered for each caliber. Trim cases by hand or use with an electric drill to trim, chamfer and polish cases faster. Eliminates danger of long cases. Squares the mouth for more accurate bullet seating and exit.
---
3 Jaw Chuck Trimming Kit

Hex shank fits popular, low-cost cordless screwdrivers (sold separately).
Universal 3 jaw chuck fits 25 ACP to largest belted magnums for shellholderless trimming.
Includes cutter, 3 jaw chuck, and spinner stud. Order cartridge specific case length gauge separately. Power screwdriver pictured also sold separately.